by Laura K. Garrison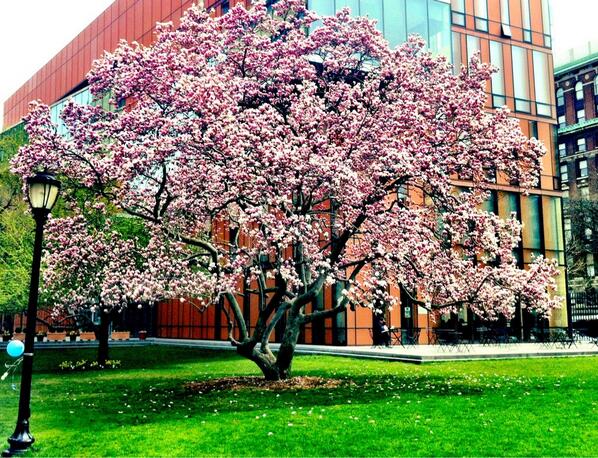 There's actually a lot to look forward to this semester.
Unfortunately, all good things must come to an end. After a month at home, you're either dying to get back to campus or in denial that you have to leave home, or probably a little of both. No matter how you're feeling, it's always challenging to readjust to a new semester back at Barnard. If you're like me, spring semester is the better half of the year. I seem to enjoy my classes more, the grades appear to be better (though I have no scientific data to back this up), and I always feel like I'm having more fun. If you're experiencing those first-day jitters all over again, here's why you should be looking forward to coming back to Barnard.
It's called spring semester for a reason. While there's no doubt New York is wonderful year round, there's just something about campus in the warm weather that makes everything better. The magnolia tree blooms, you can sunbathe on Low steps, and the sky is usually a beautiful shade of Columbia blue. So while you may be swamped with end of semester projects, papers, and exams, at least the weather will be nice.
Speaking of spring, don't forget that Spring Break 2014 kicks off March 15. Whether you plan on recreating a certain movie or are heading home to binge watch TV in your pajamas, it's a break we all need after the stress of midterms and surviving a frigid New York winter. And unlike fall semester's two mini-breaks in November, Spring Break is one long week in which to party up/veg out. We deserve it.
The holiday season may be over, but there's plenty to celebrate in the upcoming months. Sure there's no costumes and turkey, but bring on the half-price chocolate, Shamrock shakes, and pranks to pull on your gullible friends. Valentine's Day, St. Patrick's Day, and April Fool's Day are the perfect excuses to make bad decisions, because this is college. The holidays of Easter, Passover, and Purim are also chances to enjoy seasonal treats and spend time with friends and family.
Bacchanal – that sh*t cray.
In the same vein, some of our most popular and beloved campus traditions happen during spring semester. On a sacred Saturday in April, students on both sides of campus cut loose during Holi and Bacchanal. The former involves students throwing paint at one another to celebrate the Hindu tradition to welcome the spring. The latter involves a concert on Low Plaza to commemorate all the good things in life: the end of the year, the warm weather, and the libations of Bacchus. Last year the headliners were Macklemore and Ryan Lewis, and the annual campus-wide drama of finding performers is almost as entertaining as the concert itself. Also save a meal swipe for the surf and turf dinner later in the month at John Jay and Ferris Booth, because lobster tails, that's why.
At Barnard, Spirit Day in late April involves the traditional barbeque on Lehman Lawn, collectible I ❤ BC t-shirts, and speakers pumping out the necessary 90s hits/One Direction favorites. Last year there was also a gigantic blow up slide, and you know you loved it. At some point in the near future Res Life will start sending emails about room selection, and we'll constantly stress over lottery numbers, groups, and the fact that there's nine groups of six ahead of us and only nine more six-person suites. Though it's rarely exciting and more often draconian, room selection taps into our inner Grace Adler, dreaming of real estate and interior design.
We're halfway through the year, which means summer and all its joys are almost here. As bittersweet as it is, we'll say goodbye to the Class of 2014, and they'll begin their journey in the Real World. We'll find out which inspiring woman (or president) has the honor of addressing them at Commencement and secretly love the inevitable controversy (see Obama, Lena Dunham) because it proves just how relevant we are.
Beyond the gates, we'll look forward to pop cultural milestones. While some of us care about football, the rest of us will pretend to for one night during the Super Bowl or just watch for the commercials. It's even more exciting this year because it's the first outdoor, cold weather Super Bowl at MetLife Stadium in East Rutherford, New Jersey (home state shout-out!) where the Giants and Jets play. A few weeks later we'll attend dorm parties to watch the Academy Awards as we pretend that JLaw is our bestie while we wait with baited breath to see if Leo finally wins an Oscar. 
As you settle into the new semester, stressed about new classes and long syllabi, look forward to this new beginning. Once the first-week craziness starts to subside, you'll realize all the wonderful things you have to look forward to this semester. Happy Spring 2014!
Laura K. Garrison is a junior at Barnard and Editor in Chief of The Nine Ways of Knowing.
Images courtesy of Her Campus and Southpole.